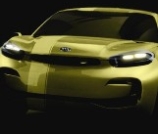 DAILY - UPDATED
KIA NEWS
&
SPY SHOTS
REVIEWS
SALES REPORTS

CUB 4-Door Coupe Concept Announced For The 2013 Seoul Motor Show
Kia Motors Corp. reveals the CUB concept car ahead of its official public premiere! 
Kia has released a teaser image of its all-new 4-door coupe concept. Called CUB, the all-new concept vehicle will make its official public premiere at the 2013 Seoul Motor Show which kicks off this Thursday.
Details about the Kia CUB at this point are scarce, but Kia says their latest car creation is less than four metres long.
Kia CUB Teaser Image
The 4-door coupe study, which was designed at the carmaker's styling studio in South Korea, incorporates a pretty aggressive stance along with several striking design elements such as the two-point LED headlight arrangement, black racing stripe and large bumper air intakes.
No engine specs, dimensions or any other technical details have been released so far.
It is widely speculated that the CUB uses the same 1,6L T-GDI turbo engine as the just-recently introduced Provo concept.
However, knowing that the CUB is even shorter than its Geneva-bound sibling model, the 4-door CUB might be packing one of Kia's small displacement direct injection turbo engines (1,0L or 1,2L T-GDI).
Expect more details about the CUB concept along with a large number of high-quality photos to be released later this week. Stay tuned!