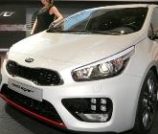 DAILY - UPDATED
KIA NEWS
&
SPY SHOTS
REVIEWS
SALES REPORTS

Kia Announces 1.0 T-GDi, 1.2 T-GDi, 1.6 T-GDi, 2.0 T-GDi Turbo Engines
It was not only vehicles that Kia displayed at the 83rd Salon International de l'Automobile in Geneva last week.
They also had a display that showcaseed their new turbocharged T-GDI (gasoline direct injection) engines that are currently being developed in Korea.
The highly-potent Kia T-GDI turbo engines are a symbol of the industry wide movement towards smaller capacity, higher efficiency engines that deliver top performance while using less fuel and coughing up fewer emissions.
Highly-advanced turbo engines displayed at Kia's booth in Geneva
– 3-cylinder Kappa 1.0L T-GDI turbo unit that develops either 100 horsepower or 120 horsepower
– 1.2 T-GDI Kappa is a four cylinder 1,248 cc unit which promises a similar performance to the current 1.6L units.
– Up near the top of the range of the new T-GDI lineup is the 4-cylinder Gamma 1.6L T-GDI, which delivers 204 horsepower and 265 Nm of torque.
– Performance lovers are sure to be drooling over the new Theta-ll, 2.0L T-GDI four cylinder engine with a capacity of 1,998 cc and to 245 horsepower.
Depending on the engine, innovative features shared by the quartet will include:
– Dual continuously variable valve timing – DCVVT for both intake and exhaust systems
– High pressure direct injection (up to 200 bar through a six-hole injector)
– Exhaust-manifold integrated low-inertia single-scroll or twin-scroll turbochargers
– Air-guided inter cooler (with innovative ducting which doubles air flow and improves cooling performance)
– Separated wall exhaust manifold which reduces exhaust back pressure
– Tumble-enhanced intake ports for more efficient combustion
– Enhanced oil injection to decrease piston temperature for improved durability