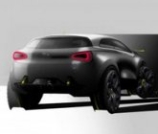 DAILY - UPDATED
KIA NEWS
&
SPY SHOTS
REVIEWS
SALES REPORTS

Kia "DE" Small Hybrid Crossover To Be Launched In 2016
Kia has revealed that a new dedicated small hybrid-electric crossover is now being developed at their R&D headquarters, and that it will arrive sometime before 2017.
New Hybrid Electric Powertrain Tech
The working label of the vehicle is the "DE" and it will run on a custom platform that uses a new-generation hybrid transmission mated to an electric motor and a 1.6L GDI petrol engine.
Kia "DE" Plug-In Hybrid Also In Works
There are, as of yet, no technical details available, but what is known is that the conventional hybrid will come first, followed by a plug-in model.
Positioned Above Soul CUV
The upcoming Kia hybrid vehicle will be a 5-door hatchback that will come in at 4.3m long. That makes it a little longer than the Kia Soul CUV, but shorter than the cuurent Sportage SUV.
Exterior & Interior Styling
The new hybrid vehicle will be a little more mainstream with its exterior design, making it very different from the likes of the Prius and the Honda Insight. Aerodynamics get a nod courtesy of the larger, wraparound spoiler in back.
Kia's sense of style is evident in the interior of the DE, and can be seen in next generation Optima when it hits the market in early 2015.
The styling is clean, with plastic accents pretty much all done in a very elegant matte black. What that means is that you are left with a design that is much more upscale and refined.
More Green Kia Cars Under Development
Sources talking about the DE platform made it clear that this development is big for the future of Kia. It is believed that the platform that will be used will be one that a number of new body styles will ride on.
Kia is hoping to achieve two things when they sell the vehicle globally.
The first is to eat into the sales of the Toyota Prius, while the second is an effort to meet the 95g/km fleet CO2 regulations that will hit Europe in 2020. (Source: Autocar)