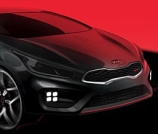 DAILY - UPDATED
KIA NEWS
&
SPY SHOTS
REVIEWS
SALES REPORTS

Kia Pro_cee'd GT Turbo Teaser Image
First official teaser image of the all-new Kia Pro_cee'd GT Turbo released by Kia Motors Europe!
The highly attractive Kia Pro_cee'd is about to get even hotter next spring, when Kia plans to release a turbo-charged GT model.
Set to make its official public premiere at the 2013 Geneva Auto Show, the new pro_cee'd GT turbo will incorporate Kia's latest turbo-charged 1,6L GDI gasoline engine which will, reportedly, pack around 200 horsepower.
Additionally, the GT will also feature an updated suspension set up to offer sportier ride and handling.
According to the teaser image, the forthcoming Kia Pro_cee'd GT Turbo will differentiate itself from the non-turbo models by offering a more aggressive body layout with larger alloy wheels, added GT badging and slightly updated front-fascia.
The final product might look a little less extreme when it hits the European streets next year, however, the teaser shot here surely demonstrates where Kia's heading to with its highly-potent GT Turbo model.
Inside, the new GT turbo model will feature even more striking and sporty character than the non-turbo model, thanks to the upgraded sporty seats, updated cluster graphics and some GT badging.
Kia pro_cee'd GT release date
Not much else is known about the highly-anticipated pro_cee'd GT at this point. What we do know though, is the fact that the all-new Kia Pro_cee'd GT Turbo will be put on display for the first time at the 2013 Geneva Auto Show!
More information about the GT model will be released closer to the vehicle's March 2013 debut, so stay tuned for more Kia news!