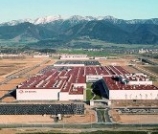 DAILY - UPDATED
KIA NEWS
&
SPY SHOTS
REVIEWS
SALES REPORTS

Kia Boosts European Car, Engine Production By 6%
The Kia Motors' manufacturing plant in Zilina, Slovakia saw a 6% year on year increase in car production, putting out 158,900 vehicles from January through June of 2013.
The carmaker's state-of-the-art automobile plant currently supplies three models, including the Sportage SUV, Venga MPV and cee'd hatchback and has recently also added the 3-door pro_cee'd into the production mix.
The pro_cee'd 3-door hatchback model began production in February, with the high performance pro_cee'd GT and cee'd GT models following suit in May.
The carmaker's  European plant is now running at full capacity for the first time in its history!
Increased Engine Production
Kia Motors Slovakia also saw a 5.7% increase in the number of gasoline and diesel engines produced this year, with the number hitting 253,200.
The automaker manufactured 133,100 gasoline engines during the first 6 months of the year (53% of total output), with the 1.6L GDI gasoline four-cyl. engine being the most popular.
They also produced 120,100 diesel engines during that time, with about 47% of the total engine production being delivered to sister company Hyundai Motor in the Czech Republic.
Eek-Hee Lee, President and CEO of Kia Motors Slovakia, said that they are pleased with the figures, especially in light of the less than favorable automotive market in Europe.
He went on to say that he believed the introduction of new models later this year would help keep the plant running at full capacity.
Kia Venga, Sportage, cee'd Production
The Zilnia plant is responsible for producing second-generation Kia cee'd, the Sportage sport utility vehicle, and the practical B-segment MPV, the Kia Venga.
Of the vehicles produced during the first 6 months of 2013, the Sportage is at the top with 48%.
The vast majority of the remaining 52% is filled with the Cee'd family, with the Venga accounting for around 10% of the vehicles produced.
Most of these cars were exported to Russia (24%), the UK (14%), Germany (9%), France (5%) and Italy (5%). Almost one per cent of output is sold in Slovakia.