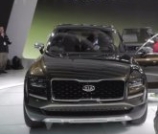 DAILY - UPDATED
KIA NEWS
&
SPY SHOTS
REVIEWS
SALES REPORTS

Kia Telluride SUV Video Preview
Those of you who follow this blog will already know that we spoke a little about the Kia Telluride SUV concept that was shown off at the North American International Auto Show in Detroit last week.
Given Kia's history, this might be a sign that they are set to release a production model SUV, with many of the elements of the Telluride likely to make their way over to that model.
There is no denying that the Telluride concept is a fantastic looking vehicle, and you can see just how good by taking a look at the video release that gives us all a good look at the concept.
There have been a number of comparisons made to other automakers SUV's, but this is all Kia, with the Telluride riding on an extended Sorento platform.
The total length added to the wheelbase is close to 12 inches, which means a whole lot of passenger and cargo space inside.
The Telluride uses a plug-in hybrid set-up that helps deliver over 30 mpg on the highway.
Under the hood, you will find a 3.5-liter V6 engine and an electric motor, with both units combining to deliver a total of more than 400-hp.
It's certainly an interesting concept, but we will have to wait and see if it will eventually become a Kia production model.
Kia Telluride video
Stay tuned for more news about the Kia Telluride!