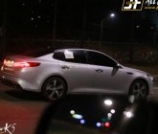 DAILY - UPDATED
KIA NEWS
&
SPY SHOTS
REVIEWS
SALES REPORTS

This Is What The New Optima Looks Like Fully Undisguised
In today's world where everyone has a smartphone with camera capabilities, staying anonymous is pretty close to impossible.
That has certainly turned out to be the case with the 2016 Kia Optima.
The next-generation Optima midsize sedan is set to be unveiled at the New York Motor Show in April, but we already have a great idea of what it will look like, from the outside, at least.
The first clues came via spy shots with the vehicle under heavy camouflage, which were then followed up by some official teaser pics from Kia.
All of those hinted at what we could expect from the new Optima, but shots out of South Korea show the new vehicle being put through its paces on the highway, and all without any sort of camouflage at all.
The photographer did an amazing job of getting pictures of the new Optima from every possible angle, which means we are able to see all the new design features that the car will be bringing to the table.
What really jumps out is how sporty the 2016 Optima looks, especially on the front end.
The redesigned bumper and headlight set-up looks incredible.
The side profile is sleek and stylish, and while you can immediately tell that this is an Optima, there is something totally fresh and modern about the new design.
The one thing that the photographer was not able to capture was the interior of the vehicle, but that just gives us something to look forward to when it does officially get unveiled. (photos: cafe.naver.com)
Production-Ready Kia Optima Fully Undisguised