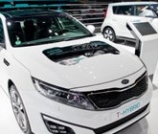 DAILY - UPDATED
KIA NEWS
&
SPY SHOTS
REVIEWS
SALES REPORTS

Kia's T-Hybrid Mates Diesel Engine, Electric Motor and 48V Lead-Carbon Battery
Kia Motors unveils a brand-new diesel-electric powertrain on the Optima T–Hybrid Concept at the 2014 Paris Auto Show!
Kia arrived at the Paris Motor Show with new fuel-saving technology ready to be displayed.
They have shown the visitors a fuel-saving T-Hybrid powertrain system, which couples diesel and electric power with an electric supercharger and a turbo.
The concept car that features this all off is the current version of the Kia Optima.
While the T-Hybrid powertrain is still in development phase, the application of the technology into a production vehicle gave an insight into the practicality of this diesel electric hybrid setup.
How It Works
The T-Hybrid uses a 1.7-liter CRDI turbo-diesel engine instead of the standard petrol unit.
That CRDI diesel engine is paired with an electric motor that draws juice from a 48V lead-carbon battery pack.
The setup is being described as a mild hybrid powertrain, as the electric part of the engine only kicks in when the car is cruising or traveling at low speeds.
That battery pack is charged when the vehicle decelerates.
Kia's decision to use lead-carbon batteries instead of lithium-ion is because they do not need active cooling, and they are easier to recycle when their life cycle ends.
When sitting in heavy traffic, the T-Hybrid powertrain utilizes a zero emissions stop-start system that also saves fuel.
The use of a belt-driven starter generator means that little noise or vibration occurs when the vehicle starts up.
The weight of the engine is reduced thanks to a smaller motor and starting battery.
That battery sends energy to the diesel engine via an electric supercharger for increased torque and power at low RPM's.
Once the speed rises, the conventional turbocharger seamlessly takes the reins.
Kia states that their all-new hybrid powertrain will help reduce emissions and fuel consumption, as well as lowering the running costs.
They see this technology as being a much more affordable green option than what currently exists on the market.
There are no hard and fast numbers to quote yet, but Kia engineers believe that the new powertrain will deliver a power increase in the 15-20% range, whilst also significantly reducing CO2 tailpipe emissions.
There is no word yet on whether the powertrain will be mass produced.