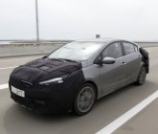 DAILY - UPDATED
KIA NEWS
&
SPY SHOTS
REVIEWS
SALES REPORTS

Sporty Kia K3 To Get A 1,6L Turbo Engine – Spy Shots
It always seems as though Kia has something new in the pipeline, and the latest is the K3 sedan, or Forte in other markets, which was just photographed being put through its paces in Korea.
The good news for those of you who like a sportier version of the cars that Kia make is that the K3 4-door sedan will be given a more sporty treatment.
This is not anything new for the Forte family, as we already have the Koup and Forte5 riding around with the 1.6-liter T-GDi under the hood.
The spy images images captured make it a little hard to totally figure out what we are going to get from the new K3 model, as it is still at the stage where there is some camouflage covering the major elements.
One obvious change is the taillight setup of this model, which is a little different than the standard sedan.
The lights are more akin to what you see on the K7 or Cadenza, with a Z pattern the real highlight.
The sporty style of the sedan is completed with the addition of a dual exhaust tip around back.
Those little touches may not exactly sell this K3 sedan as a sport model, but there is another part of the test car that pretty much gives it away.
That would be the T-GDI emblem that is emblazoned on the right part of the signature grille of the new car.
That could mean a couple of different things, the most likely of which is that the K3 is adopting the same 1.6-liter turbo engine as already found on the US-specs 2017 Forte model.
Time will only tell what we will get with this one, and we will keep you up to date with the details as they are released. (photos: ubinine)
Kia K3 T-GDI spy shots
Stay tuned for more news about Kia Motors Corp.