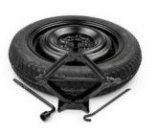 DAILY - UPDATED
KIA NEWS
&
SPY SHOTS
REVIEWS
SALES REPORTS

2017 Kia Soul Spare Tire Kit Q&A + Review
5 important questions & answers on factory Kia Soul spare tire kit – 2016!
There may be nothing worse than being out on your car and feeling that familiar rumble that indicates a flat tire.
Rather than having to pull over and wait for roadside assistance, you can change the flat tire yourself, assuming of course that you have a spare tire in the trunk.
If you own a 2017 Kia Soul, but don't have an extra tire placed in the trunk, it would be wise to invest in a factory Kia Soul spare tire kit.
Kia Soul tire kit cost
.

We have checked a couple of online stores and found out that Amazon sells high-quality spare tire kits for cars, including the one for Kia Soul!
A good factory spare tire kit for Kia Soul will cost you about $200, but it is an investment that should be considered essential!
As well as the spare tire, you will also get a steel wheel, a tool kit, and a hard foam organizer.
Since this is an OEM factory tire kit, the whole setup will fit perfectly in the trunk of your 2017 Kia Soul crossover vehicle.
Better yet, it can be used in any of the available Soul trim levels, making it a one size fits all!
Soul spare tire kit specs
Fits 2014, 2015, 2016, 2017 Soul models

Includes: spare tire, steel wheel, tool kit and hard foam organizer

Size: 16-inch

Designed to replace original 16″, 17″ or 18″ alloy-wheels
OEM Kia accessory
Soul spare tire kit Q&A
1. How many miles can you drive on it?
According to Kia Soul owners manual, you can drive on it for about 50 miles.
2. What is the actual Soul donut tire size?
The size of the donut tire is 16-inches.
3. Does it fit all Kia Souls?
It is compatible with all factory wheel sizes (16-inch, 17-inch and 18-inch wheels)!
4. Can I use it on 2012 or 2013 Soul models?
No, this piece is designed for 2014-2017 model year Souls.
5. Where in the car is the kit placed?
It is placed in the storage area behind the back seats. Under the floor in the trunk, there's a compartment that features a tire mobility kit stored.
*****
How much could you save on this Soul spare tire and jack today? Check the

blue

/

yellow

link above!
*****
Conclusion
Keep in mind, though, that a spare tire tire kit is only a temporary solution until you get a regular tire to replace it!
When you think of how much it might cost you to call out a roadside assistance, assuming of course that its even available where you have your flat, a spare tire kit for Kia Soul is a very wise investment indeed!