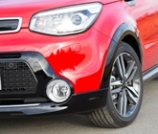 DAILY - UPDATED
KIA NEWS
&
SPY SHOTS
REVIEWS
SALES REPORTS

Kia Soul U.S. Sales Surpass 500,000 Mark In Just 5 Years
The Kia Soul has wowed car enthusiasts with its boxy style since it was released in 2009.
They have responded to the tune of a half-million sales.
Taking into account sales figures from last month, the Soul has sold a total of 509,854 units in the United States.
The popularity of the vehicle has never really waned from day one, with even more people becoming lovers of the car with the release of the second generation model.
Yearly Sales Figures
2009 … 31,621 units
2010 … 67,110 units
2011 … 102,267 units
2012 … 115,778 units
2013 … 118,079 units
2014 to-date …135,410 units (as to the end of November!)
The Kia Soul, which was designed in California, managed sales of 31,621 units in its first year.
The numbers soared after that, with 67,110 units in year two, and a total of 102,267 units the year after.
The Soul has managed to cross the 100,000 sales mark every year since, and has already reached 74,965 units in the first half of 2014.
Kia's 2nd Best-Selling Model In The USA
It now sits in second place behind the Optima for Kia's best-selling vehicle.
As mentioned earlier, the release of the second generation model helped boost sales as the tail end of 2013, as well as in the early part of this year. The new model is a little larger and comes with a greatly improved interior, ride, and handling.
Another major component in the success of the vehicle have been the ads featuring a trio of hip-hop hamsters. The fact that the car has also won numerous design awards doesn't hurt either.
Among those accolades are those from J.D. Power, Wards Auto as well as the Red Dot and iF awards for excellence.
The popularity of the Soul has helped it become the undisputed champion of the boxy car segment, knocking off competitors such as the Nissan Cube, Scion xB, and Mini Paceman.