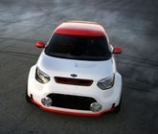 DAILY - UPDATED
KIA NEWS
&
SPY SHOTS
REVIEWS
SALES REPORTS

Kia Quietly Teases Soul Turbo Model
It's a busy time for Kia Soul, with refreshed 2017 model expected to be unveiled later this year, as well as the arrival of a new Soul turbo model also on the horizon.
It's no real surprise then that the Soul hamsters are back with a new ad, and it appears that they are hinting at what might just be the upgraded Kia Soul with a turbo engine.
The Kia Soul Turbo release date is expected to happen sometime in the winter months, but for now, let's take a closer look at what the hamsters may have been showing off in the new ad.
It's not until the final frames of the new Soul ad that we see the Soul line-up shown, and it includes the traditional gas-powered, all-electric and turbo models.
The inclusion of the "turbo" model in the ad, as well as a "winter 2016" label, suggests that the often rumored turbocharged Soul is now almost upon us!
Kia Soul turbo teaser
The Soul has been a popular model since it was released in 2009, but it was also a vehicle that was crying out for a peppier version.
The gas-powered version of the Soul is currently equipped with either a 130 horsepower 1.6-liter or a 164 horsepower 2.0-liter 4-cylinder engine, but expect to see the turbo version possibly getting the 201 horsepower 1.6-liter turbo four currently found in the Kia Forte5.
Kia has always used creative ads to help promote their vehicles, so it shouldn't be too long before we perhaps see the hamsters in something a little sportier.
Find latest rumors and news about the 2017 Kia Soul.