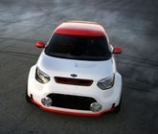 DAILY - UPDATED
KIA NEWS
&
SPY SHOTS
REVIEWS
SALES REPORTS

Kia Soul Turbo Could Be Released With A 1,6L T-GDI Engine!
The Kia Soul has been an unmitigated success for the Korean automaker, especially in the US, where as many as 90% of all vehicles produced at the Gwangju plant arriving stateside.
As odd as it may sound, that success is hurting the possibility of spinoff models like the Track'ster AWD concept ever seeing the light of day.
One of the biggest problems is the lack of production capacity currently being faced by Kia.
During 2012, Kia sold 112,000 units of the Soul, although they do admit that the number could have been a whole lot more if they were able to keep up with the demand.
Michael Sprague, Kia's Executive Vice President of Marketing and Communications, says that with the Soul selling so well, there is really no incentive to come up with a variant, despite the fact that the Track'ster was enthusiastically received.
EV Soul Confirmed, Turbo Model Possible
All of that said, Kia is still going ahead with the Soul EV, which should make its appearance during an upcoming US auto show.
The all-electric Soul is one thing, but adding a turbo or Track'ster version to the lineup is quite another.
Kia officials have already admitted that they would love to see the 201-horsepower, 1.6-liter turbo engine used in the 2014 Forte SX slipped under the hood of the new Soul.
There is no denying that the engine would be a perfect fit for the K platform, but its price that seems to be the issue.
Executive Director of Product Planning, Orth Hedrick has revealed that the production of such a model would likely add around $2,500 to the price, which is not a price point they are willing to introduce to the Soul lineup.
Sprague was one of the first to admit to the stunningly positive response to the Track'ster, going so far as to admit that the project is still on the table.
The problem of fitting it into production will continue as long as the Soul remains a huge hit with the buying public.
This has led many in the industry to believe that Kia may in fact have to end up moving production of the Soul to North America, with the West point plant in Georgia possibly being expanded to make that happen.
The longer it takes to make production of the Track'ster a reality, the less likely it is to ever see the light of day.
– Kia Soul SX – Find detailed information about the Canadian Soul SX model features and specs.
– Acid Green Soul Photos – Some great pics of the Alien Green Kia Soul (USA).
-2017 Soul news – read latest rumors and news about the 2017 Kia Soul.