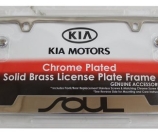 DAILY - UPDATED
KIA NEWS
&
SPY SHOTS
REVIEWS
SALES REPORTS

2018 Kia Soul License Plates – 4 Quality Products Worth Buying
The 2018 Kia Soul is a great looking vehicle without any additional touches, but it's one that also begs to be customized.
The owners of the funky hamster ride love nothing more than to make their ride their own, and there are ways to do it without breaking the bank.
One of the best, and easiest, ways to change the look of your vehicle is with Soul license plate frames.
It may seem like a relatively small addition, but it's a good starting point for future modifications and upgrades that you may want to make.
We are now going to help you choose the best license plate for Kia Soul.
Best Kia Soul licence plate frames
So, how do we know which Kia car license plates are good and which should be avoided?
We went to Amazon and sifted through all the license plates that are on offer and narrowed them down to 4.
We looked at the materials used to create the plates, the reviews left by customers, and a few other factors, and we believe we now have discovered the best license plates for your Kia Soul car.
Let's take a closer look at all the top Kia Soul license plate frame options:
1# OEM licesne plate with red Soul logo
.
.
Made from solid brass and plated with chrome, this is a genuine OEM Kia license plate frame. This is one that will almost certainly stand out because of that shiny chrome plating.
It's also easy to install, and can simple be screwed over top of the existing plate.
While this product states that it is made for 2010-2013 model years only, we found in the comments section from previous buyers that it will also fit models all the way up to the 2018 Soul model year.
The use of the Soul logo at the bottom is a very nice touch.
2# Same as above but with black Soul logo
.
.
This one is almost identical to the product #1 above, with the main difference being that the Soul signature logo is in black instead of red color.
It comes down to personal preference, but you may want to choose the color that best fits the exterior hue of your boxy ride.
Let's check a couple of other not OEM Kia products…
.
3# Chrome license plate frame
.
While this one is not an official Kia product, it's still one that we can definitely recommend.
Customers who own this license plate frame are quick to point out that it is made from quality materials, plus it's a little cheaper than the previous two on this list.
4# License plate frame from zinc
.
We prefer OEM Kia plates, but understand that some of you may be looking for something a little more affordable.
They don't come much cheaper than this license plate made from black zinc.
It may be on the cheaper end of the scale, but it looks higher priced, and appears to be of quality construction.
Conclusion
You are, of course, allowed to purchase any 2018 Kia Soul license plate that you want, but we believe that you cannot go wrong if you opt for any of the 4 on this list.