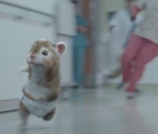 DAILY - UPDATED
KIA NEWS
&
SPY SHOTS
REVIEWS
SALES REPORTS

Latest Kia Soul Commercial Features Wild Baby Hamster & Hot Blonde Girl
The 2017 Kia Soul commercial features a new baby hamster and a hot blonde girl!
You don't need to be a fan of Kia to get a kick out of the hamsters who helped launch the Soul.
They've been missing for a while, but the dancing Kia hamsters are back for their eighth commercial ad, and they are bringing along a new addition to the family.
This latest Soul turbo TV spot starts off a little wild, as the new hamster leaves the maternity ward to take a spin in the new turbocharged Soul crossover.
The new hamster evades hospital staff and security before making it to the roof for an even more daring escape.
Before the escape is complete, though, the hamster makes a huge mess in the hospital, knocking over IV's, running through a CT scanner, and getting blasted with flour in the hospital kitchen.
Once the little & wild turbo hamster gets up on the roof, it uses a sheet as a makeshift parachute, which it uses to make a dramatic landing though the sunroof of the Kia Soul Turbo.
You don't actually get to see the new Soul Turbo model until the very end of the ad, but it's not that big an issue when you consider that it essentially looks the same as the standard Soul.
2017 Kia Soul hamster ad
.
The new Soul model is powered by a 1.6L turbo engine that cranks out 201-horsepower and 195-lb.-ft. of torque.
It is mated to a 7-speed dual clutch transmission, with the power sent to the front wheels.
This is the most powerful of the available engines, but there is also a naturally aspirated 1.6-liter that delivers 130-hp, as well as a 2.0-liter version that delivers 161-hp.
This boxy Kia delivers some serious performance, too, going from 0-62 mph in just 7.5 seconds, with a top speed of 124 mph.
The 2017 Kia Soul Turbo has been out for a while now, and it comes with a starting price of just $22,800.
Girl in latest Kia Soul commercial?
We have noticed some hot-looking girls in the latest ad.
Do you know perhaps who is the blonde girl in the 2017 Kia Soul commercial?
Song in the Kia hamster ad?
The song played in the 2017 Soul commercial is called Ace of spades performed by Motorhead.