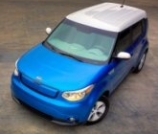 DAILY - UPDATED
KIA NEWS
&
SPY SHOTS
REVIEWS
SALES REPORTS

Kia Soul EV To Cost $39,400 In South Korea
The Soul EV promises to deliver a driving experience that is on a par with its gas-powered counterpart, not to mention an impressive driving range.
We now know that the cost of the new Soul electric vehicle will come in at around 42 million won (US$39,400).
It would be easy to look at the price and think that it is on a paper with larger luxury models, but that is not seeing the whole picture.
Thanks to subsidies deliver by the South Korean Ministry of Environment, the actual Soul EV cost to the consumer will be about 20 million won.
Anyone in Korea who purchases an eco-friendly vehicle this year will get around 15 million won in subsidies from the ministry.
A further maximum of 9 million won will be given by local government to those that purchase one of the currently available elecric vehicles. There are other tax benefits that will help further reduce the cost.
Related Soul EV news: Insurance cost on 2016 Soul EV
Korean-Specs Kia Soul EV
The Soul EV made its debut at the Chicago Auto Show un February, with the major claim being that it can run 148 km on a full charge.
The car has a pair of charging ports located behind a stylish grille, with charging time taking about 24-33 minutes in DC mode. Using the slower AC adapter means that charging will take roughly 4-5 hours.
27 Kilowatt Hour High-Density Lithium-Ion Polymer Battery
Powering the EV is an 81.4 kilowatt electric motor mated to a 27 kilowatt hour high-density lithium-ion polymer battery.
That allows an acceleration o o-100 km/h in 11.2 seconds. The system has been rated at 111 horsepower with 29 kilogram-meter (kg-m) of torque.
These numbers are a little different from what you would expect to find on the 2014 Soul with the 1.6-liter naturally aspirated gas engine. Those clock in at 132 horsepower and 16.4 kg-m of torque.
Kia Soul EV 10 Year Warranty
The Soul EV comes with another great Kia Warranty, which is 10 years and 160,000 kilometers on all critical parts.
Innovative HVAC System, Infotainment Features
There are a lot of great parts to like on the EV, including state of the art pump systems that are used to deliver heat in the cabin in a way that is energy efficient.
The heating and AC systems save power, as does the regenerative braking system that creates power every time the driver takes his foot off the accelerator.
Another plus is that very little cabin space as reduced to make way for the battery pack, which has been placed in the floor. This is different from other EV's, many of which have been deemed impractical due to the limited cabin space.
The navigation system has been given a great little upgrade in that it helps drivers find the nearest recharging stations.
It also delivers relevant information and power usage and charge levels.
Furthermore, the UVO eServices system allows drivers to pre-set the recharge time and a host of other things via a smartphone app.
The first ever International Electric Vehicle Expo will be held on Jeju Island this coming weekend, which is where the first Korean-specs Soul EV will be delivered.
Sales in global markets, including the USA and Europe will commence later in the year.