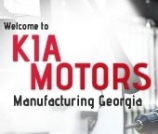 DAILY - UPDATED
KIA NEWS
&
SPY SHOTS
REVIEWS
SALES REPORTS

Kia Denies Rumours Of New Plant In The US
Kia Motors is denying recent newspaper reports that claim the South Korean automaker is looking at building another US plant by 2014.
The new plant would be used to fill the capacity shortage gap that has slowed down sales growth in the US market.
Financial News, a South Korean newspaper, had reported last week that the Hyundai Motor Group, including affiliates Kia and Hyundai Motors, was in talks with Georgia state officials in regards the new plant, referred to as "KMMG2."
Unnamed sources claim that the new plant would have an annual capacity of 150,000 vehicles, and that ground would be broken sometime between April and June of this year.
Kia's West Point plant in Georgia has a manufacturing capacity of 360,000 vehicles.
That plant manufactures the Optima, Sorento, and Santa Fe, whilst running three shifts and employing more than 3000 people.
Hyundai also operates a plant in Alabama, which is where the Sonata and Elantra are manufactured.
Kia Denies Rumors
A spokesman for Kia Motors described the report as "groundless."
Word out of the Georgia department of economic development is that there are no active projects with Kia, although they would definitely be behind further expansion.
West Point Mayor Drew Ferguson claims to know nothing about any such plans.
Kia has already committed $1.6 billion over the next 16 years for machinery for the current plant.
The report claimed that the decision was made some time ago to build another Georgia plant, but that the plans were put on hold due to the downturn in the global economy.
Hyundai and Kia were the only automakers to thrive during that economic dip, but US sales have taken a bit of a knock recently due to the fact that their production capacity is absolutely stretched to the limit.
Combined sales for Hyundai and Kia in the US fell 3% in the first quarter of 2013, with Kia sales executives claiming that they want to boost US market share in the remaining months of the year. [Source: Shortfall.co.uk]