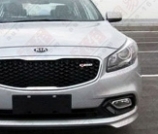 DAILY - UPDATED
KIA NEWS
&
SPY SHOTS
REVIEWS
SALES REPORTS

Production-Ready Kia K4 Sedan Spotted In China
A production version of the Kia K4, minus all camouflage, has been spotted ahead of its official October release.
The first preview came at the Beijing Motor Show earlier this year, albeit as a concept with the same name.
Many of the design elements are carried over to production, with smaller wheels, restyled fog lights and body-color handles being the main difference.
The K4 will take up the space that sits open between the Kia K3/Cerato and the K5/Optima, and will ride on the same platform as the Hyundai Mistra (the China-exclusive Hyundai model).
The upcoming K4 midsize sedan will be for the Chinese market only, and will likely come with a 1.6-liter 4 cylinder GDI turbo engine mated to a dual-clutch 7-speed transmission.
There is also the possibility that it might get a naturally-aspirated 1.8-liter with 146 bhp (109 kW) and 175 Nm (129 lb-ft) along with a 2.0-liter motor developing 162 bhp (121 kW) and 194 Nm (143 lb-ft) working with a 6-speed manual.
When the K4 is officially launched in China, the vehicle will offer a ton of safety features including electronic stability, rear view camera and 6 airbags.
The stylish 4-door sedan will also feature the UVO infotainment system, push button start and a Supervision instrument cluster.
The base model is expected to come in at around $22,500 and go up to around $29,000.
Stay tuned as we will post more images and news posts about the brand-new Kia K4 in the coming weeks! (Photosource: Autohome)
Enjoy the most-recently leaked spy photos posted here!
Latest Spy Shots