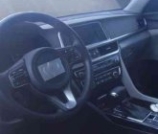 DAILY - UPDATED
KIA NEWS
&
SPY SHOTS
REVIEWS
SALES REPORTS

Production-Ready 2016 Kia Optima Interior – Fully Undisguised
The next-generation 2016 Kia Optima is one step closer to being done with the development phase, and is set to be released during the first quarter of this year.
This has been one of the most successful cars for Kia in both sales and design.
The big challenge for Peter Schreyer and his design team was to deliver a new version that maintained that level of design beauty.
What they came up with is a car that has a sharper design, and which features an interior that has been given a serious upgrade.
First-Ever Spy Picture Of The 2016 Optima Interior!
What this spy shot of the new Kia Optima interior shows is a cabin that has updated materials and tech, and a layout that some are comparing to a cross between a BMW and the interior of the Sedona MPV.
What that all adds up to is a more premium sense of style on the inside.
What the spy picture clearly shows in the interior is an 8-inch infotainment system that sits under a stylish looking chrome bar.
That little splash of style is almost enough to divert your attention from the stunning leather-wrapped dash.
One touch that will look a little familiar is that steering wheel, which looks like the same as the one seen in the 2016 Sportage spy shots.
As we have seen at previous spy shots, the 2016 Kia Optima exterior design does not deviate too far from the current, 2015 model.
The tiger nose grille is still there, as are the lighting configurations in front and back.
The petrol models will also show off some aggressive looking air intakes on the front bumper.
Hybrid models, however, will go with a closed front grille that will automatically open when the engine requires a little touch of cool air. (Source: autohome.com)