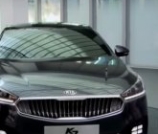 DAILY - UPDATED
KIA NEWS
&
SPY SHOTS
REVIEWS
SALES REPORTS

Preorders For Kia's New K7 Top 4,500 Units In Only 4 Days
It is not often that a single vehicle shapes the entire design direction of an automaker, but Kia president and chief design officer Peter Schreyer has made it clear that design of the new K7 will be an insight into what to expect from all future Kia models.
It would appear that the South Korean buying public is on board with those changes, as preorders for the new K7 have crossed the 4,500 unit mark in just 4 days, which is probably better than anyone could have predicted.
Kia showed off the new K7 at a press event last Monday, and then started taking the preorders on Tuesday.
By the end of the week, that number had climbed to 4,500, according to data released by Kia Motors.
Part of the allure, other than the fresh exterior design, is that consumers get to choose between 4 different powertrains.
These include 2.4-liter and 3.3-liter gas models, as well as 2.2-liter diesel and 2,4L LPG models. These are mated to an 8-speed FWD transmission that helps boost fuel efficiency and driving performance.
It is the 3.3-liter gas model that leads the way, accounting for 23% of the preorders.
The diesel version is the next most popular among consumers with 21% of the total preorders.
New Kia K7 design explained by Peter Schreyer (must see!)
Find more news about Kia here…