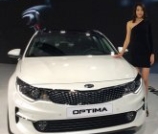 DAILY - UPDATED
KIA NEWS
&
SPY SHOTS
REVIEWS
SALES REPORTS

People's Thoughts On Kia Optima 2016 – What Do You Think?
Over the past couple of months, Kia has been displaying their upcoming 2016 Optima sedan all over the world.
We have seen the car making its official debuts in Korea, USA, China and Europe.
The stylish Kia midsize sedan has gained nothing but positive comments and reviews from worldwide automobile media.
But, how about others? What do other people think of the Kia Optima 2016 (model year)?
We have collected a few comments (positive and negative) from the visitors of our Kia blog, so let's read about their thoughts.
POSITIVE comments:
1. SHOODIVA: "Very excited to see this 2016 Optima model. I've owned a 2013 and now own 2014 SXL… Will be seriously looking into purchasing this model."
2. JTZ: "This new Optima design will be a challenge for Kia. This is one of the world's best looking cars ever. Many auto makers made really nice designs and yet when they gotten redesigned they really messed it up."
3. CarmenQuincy:  Some say this new Optima is too conservative. I personally think it is extremely good looking and stylish. No car out there will appeal to everyone. Some will like the looks and others will not. This is a 4 door sedan, not a sports car. If someone wants a car that looks mean and aggressive, get a hot, sports car with a big V8.
NEGATIVE comments:
1. SONY MILLER: I'm a former die hard Chevy fan. But now I currently own a 2013 Optima SXL, and I absolutely love it! Since 2013, I've compared my Optima's interior and exterior styling to my friends and coworkers Chevy's, Lexus, Fords, Toyotas, Honda's, Mitsubishi's and BMW's. And, my SXL always got the most attention and positive compliments.
Also, I've raced against my cousins Dodge Challenger, Charger and 300 on curving roads. And, even though his cars have more horsepower.
My Optima SXL killed him because it's lighter, excellent with cornering and the gear ratios kept it ahead of them.
However, the few things that set Optima's apart from the competition have been removed.
First, they traded the wrap around, fighter jet inspired interior that was centered on the driver. For a plain, flat, boring dashboard that emulates Toyota & Honda.
Next, they downgraded the engine on the turbo from 274hp to 247hp. I'm still hoping that was a typing error. And lastly, the exterior styling bears a striking resemblance to the 2015 Toyota Camry.
In my opinion, Kia has done the same thing that Ford and Chrysler did when they copied the Optima's exterior styling to the Ford Fusion and the Chrysler 200.
I'm extremely disappointed with the new 2016 Kia Optima. I was praying for a twin turbo, 4 wheel drive Optima for 2016 with the 2010-2013 styling that made this car so popular and convinced so many people to buy Kia's.
But, unfortunately the company has sacrificed individuality and performance for a more common car. While their competitors are building faster more powerful cars that are loaded with safety features that people actually want to drive.
It's sad, because my next car will not be a Kia as long as they are continuing to steer the company towards boring styling and lacking performance.
2. ROBERT: The 2016 Kia Optima is not as SLEEK as the 2015. I bought the EX last July and have been thrilled as it rides as good as it looks. The 2016 looks "boxier" and not as dynamic!!!! Disappointed as I was looking to buy the 2016.
While it may be a little more luxurious on the inside it is not as "aerodynamic" on the outside so I will be keeping my 2015. It is disappointing as I expected more on the exterior design!!!
What do you think of the Optima 2016?
Now, let us hear your thoughs on the all-new Kia Optima midsize sedan!
Feel free to share what you think about it.
the 2016 kia optima is not as SLEEK as the 2015. i bought the EX last july and have been thrilled as it rides as good as it looks. the 2016 looks "boxier" and not as dynamic!!!! disappointed as i was looking to buy the 2016. while it may be a little more luxurious on the inside it is not as "aerodynamic" on the outside so i will be keeping my 2015. it is disappointing as i expected more on the exterior design!!! – See more at: http://www.kia-world.net/2016-optima/#sthash.FbFTHQtd.dpuf