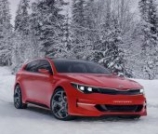 DAILY - UPDATED
KIA NEWS
&
SPY SHOTS
REVIEWS
SALES REPORTS

Kia Optima Wagon Previewed By Sportspace Concept
The current Kia Optima was first introduced back in 2011, so we expected something new for the 2016 model year.
What we get may actually be teased at the Geneva Motor Show in March, as the general consensus is that the all-new Kia Sportspace concept vehicle is in fact pretty darn close to what we can expect from the next-generation Optima.
The Sportspace, which was conceived and designed at Kia's European studio in Frankfurt, Germany, offers some real hints at what is to come for the fourth-generation Optima.
The fact that the Sportspace is delivered as an estate model is a hint that a wagon-type model may well be added to the Optima family at some point in the near future!
There is also a good chance that the Optima will once again follow closely in the footsteps of the newest version of the Sonata sedan, which is offered by sister company Hyundai.
What that means is that the Optima will likely come with a 2.0L 4-cylinder engine as the base engine for a hybrid and a plug-in hybrid to follow at a later date.
The regular Optima models are likely to stay with the same engine options under the hood, which would be a 2.4L GDI engine, as well as a turbocharged 2.0L.
Kia has also hinted that they are working on a diesel-electric hybrid variant that will be offered as a Europe only model.
2016 Kia Optima Wagon Very Likely
The wagon style seen on the Sportspace concept is also something that would likely only to be available in Europe if the estate model was added to the Optima family.
Kia claims that the study model was put together as more than just an exercise in design.
Their goal was to create a truly versatile vehicle that looked great, but which also fit in perfectly with families that love an active lifestyle.
The interior of the vehicle was made to be a spacious, comfortable space where the stresses of everyday life could melt away in a matter of moments.
While there is plenty of space to be found on the inside, the unique design, which features a center column in back, is made to comfortably seat four.
If this were to become a production model, that is one feature that would likely not make the cut.
There are plenty of features in the Sportspace that would definitely be included in a production model, though, including leather trim, a panoramic sunroof, and the touchscreen display up front.
More details will be forthcoming when the car goes on display at the Geneva Motor Show, which will kick off on March 3rd.