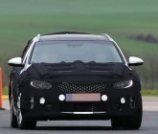 DAILY - UPDATED
KIA NEWS
&
SPY SHOTS
REVIEWS
SALES REPORTS

2017 Kia Optima Sportspace Release Date, Price
Meet the new Kia Sportspace 2017!
Kia showed off the striking Sportspace concept at the Geneva Motor Show last year, claiming that it was the design that would be used for the new Optima, which was unveiled about a month later in New York.
There was also talk that the Sportspace might also be a teaser of an upcoming wagon version of the Kia Optima.
We can now show spy shots of the new production-ready Kia model, which we believe will be called the Optima Sportswagon when it goes on sale.
Think of it as a larger version of the cee'd Sportswagon that Kia also sells in Europe.
Europe is also the market that will first get the new Optima Sportspace / Sportswagon, although Kia may surprise everyone by making it also available in the US.
Kia Sportspace spy shots
The latest Optima Sportspace spy pics show a car that is sure to be a crowd pleaser.
They reveal a front end that is essentially the same as the sedan variant of the current Optima 4-door sedan.
There are some differences around back, though, including a liftgate that incorporates a new taillight design.
The roof is basically flat, which means passengers in the rear of the vehicle will have more headroom than they would have in the sedan.
It seems like a practical vehicle that will also likely be on the affordable side, especially since the newest US-market Optima sedan starts at a mere $22,000.
There are three 4-cylinder gasoline versions of the Optima available in the US, but since the Sportspace will be sold in Europe, expect diesel variants to be made available, too.
Another powertrain that is expected to be offered in the up-coming Kia wagon is the plug-in hybrid drivetrain.
The official unveiling of the 2016 Kia Optima Sportswagon will likely be at one of the major European motor shows next year, with the Geneva show in March being a very distinct possibility.