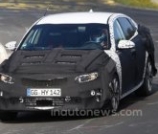 DAILY - UPDATED
KIA NEWS
&
SPY SHOTS
REVIEWS
SALES REPORTS

2016 Kia Optima Redesign + First Pictures
The Kia Optima has always been a sales success for Kia, but the current generation may well be the most popular car offered by Kia to date.
The Optima has been tweaked, prodded, and changed a lot over the years, which means it's time for something totally new.
A pair of prototypes for the 2016 model year have recently been spotted testing, albeit in different locations.
One was out through its paces in the US desert, while the other was seen zipping around the famed Nurburgring test track.
Kia Optima Redesign Photo
There is talk that Kia used the same platform that was developed for and featured on the 2015 Hyundai Sonata.
That would mean a large use of high-strength steel for increased rigidity and a slight reduction in weight.
It is also believed that new engines will be used, with efficiency valued over power.
US versions of the car will feature a 2.0L and a 1.6L turbo, as well as a hybrid engine. In Europe, the redesigned Optima is also expected to offer a choice of a 1.7L diesel engine.
The upgraded design language, which can be seen on the all-new Sorento, will be what is on display on the exterior.
It is definitely the exterior design of the Optima that has helped it soar in the otherwise bland midsize sedan segment.
The first glimpses of the interior reveal that the Optima is ready to go a little more upscale, with new features and improved build quality.
One of the biggest selling points is sure to be the touchscreen display in the center of the dash, giving the car a little touch of German style. (photo: inautonews)
Find another spy photo of the 2016 Optima here.