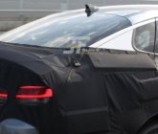 DAILY - UPDATED
KIA NEWS
&
SPY SHOTS
REVIEWS
SALES REPORTS

A Little Bit Of Teasing Before Official Launch Of The Optima Sedan
We are almost into the month of April, which means that the New York Auto Show is right around the corner.
Those of you who keep up with Kia news are well aware that the next-generation 2016 Optima will be officially unveiled at that event.
You will also be aware that Kia recently unveiled a pair of Optima teaser shots that gave us an idea of what to expect from the new model.
Now we have some spy shots that help us get a little closer to completing the puzzle.
Next-Gen Kia Optima Spy Pictures
Despite the fact that the vehicle in the spy shots is heavily covered in camo, there are still some details that can be seen if you take a really close look.
The most noticeable changes are to the design and setup of the lights in both front and back.
You can also spot some design cues that are clearly borrowed from the Sportspace concept, although in a slightly less aggressive style than the design used on that model.
A wagon model like the one previewed by the Sportspace is expected down the line on some unspecified date, but what we know for sure is that the 2016 Optima sedan will come in 3 different gas models (1.6-liter, 2.0-liter turbo, and 2.4-lite GDi), as well as a hybrid version.
A plug-in hybrid model should be available about a year after the initial release of the next-generation Optima.
We now have a really good idea of what to expect from the new model, but the official unveiling will still be incredibly exciting! (photos: jfclub.kr & cafe.naver)
More Pictures Of The Optima Prototype
The wait is nearly over… only a couple of days left, before theall-new Kia Optima midsize sedan sees the day of light!!