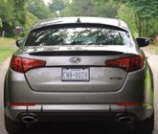 DAILY - UPDATED
KIA NEWS
&
SPY SHOTS
REVIEWS
SALES REPORTS

This Kia Optima Features A Plethora Of Aftermarket Parts And Accessories
The latest in our Kia owner's series takes us to Texas, where Dave, military brat who loves the Chicago Bears gets around town in his 2013 Kia Optima EX.
While this is the first Kia experience for Dave, he is pretty sure that it will not be his last.
His experience was great from the start, with the dealership treating him well and making the whole buying process easy.
The whole point of choosing this particular car in the first place was to have a car that would comfortably hold him, his wife, and their three boys.
That it is easily able to manage that and not make a major dent in his wallet is a big part of what has made Dave so happy with his purchase.
Friends and strangers who see the car are stunned when Dave tells them that it's a Kia.
They are as impressed by the design on the inside and out as he is. Dave loves the comfort and layout of the interior, but is also impressed by the opportunities modify the car that exist.
To hear more about his experience and future plans for his Optima sedan, be sure to read on.
2014 Kia Optima EX Specs
Engine: 2.4L
Color: Titanium Metallic
Trim: EX
Model year: 2013
Tire size: 17inch wheels on stock tires
Average mpg: 23/24 mpg (Mostly City)
Miles driven so far: Almost 8000
1. Tell us something about your Kia Optima ownership experience? 
I have had my 2013 Optima EX since September and have been nothing less than impressed.
The purchasing process was easy, the dealership has been   great when I have had issues (Even replaced a tire when I ran over a nail) and the car in my opinion is an amazing deal for the price.
I just recently shopped for cars with my significant other and found that there is nothing else on the market that offers the amount of amenities and comfort at the same cost.
The car drives very smoothly, handles like a dream, gets great to decent gas mileage and looks amazing right off of the show room floor.
2. What do other people say about your car? 
They drool and then once they realize it's a Kia they say…"That's a KIA?!?!?!?!"   I get tons of compliments everywhere I go.
3. How long have you owned your ride? 
8 months
4. Honestly, what was your intention when you bought your Kia? 
I wanted a car big enough to comfortably hold me and the missus and the 3 boys that wouldn't kill me at the pump.
5. What do you like the most about your Optima EX? 
I love the comfort and driver friendly setup of the interior.  I also like that there are so many options out there for personalizing the car.
6. What is it that makes your vehicle look unique? 
I have done a little bit of personalizing and I think it is the color scheme (Bits of black and chrome) that makes my ride look unique.  I like subtle changes that tie together make a big impact and I think so far I have pulled that off.
7. Which Kia Optima accessories have you installed so far / do you have any future plans?
1. Exterior
Custom cut ABS side diffusers from Low Pro Aero, Tint, My Ride Roof Spoiler, Carbon fiber look K Badges, Carbon fiber look 3M spoiler, Carbon fiber look 3M side vent trim, Carbon fiber look 3M gas door, Carbon fiber look Lower door trim, Carbon fiber License plate covers, Tinted rear tail edges.
2. Interior
Diode Dynamics acrylic accents Titanium K logo on CF, Carbon fiber look Horn badge cover, Silver and black floor mats, black striker covers, trunk light stick.
3. In-Car Entertainment
Stock head unit up front and Kicker 600W Amp, Kicker 600W 12″ Sub in ported enclosure in the caboose.
4. Under the Hood
Painted engine cover. Injen Technology tuned intake system.
5. Wheel and Tire
Kumho Solus tires x17" DR 34s
Future plans:  Nothing else planned right now but you never know.  If it hits me just right I'll go with it.
Maybe if I were lucky enough to get a sponsorship somewhere I might go a little buck wild 😉  Anybody out there?!?!?