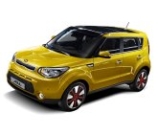 DAILY - UPDATED
KIA NEWS
&
SPY SHOTS
REVIEWS
SALES REPORTS

November 2013 Kia USA Sales Figures – Soul Tops The Chart
Kia Motors America announced record sales of 45,411 units for the month of November 2013.
The company has done a fantastic job on delivering all seven of the new or significantly redesigned vehicles that they promised at the start of the year.
Kia's top-sellers for the month were the Soul and the refreshed for 2014 Optima midsize sedan with 12,870 and 10,871 units sold, respectively.
The Optima has led the way for the past year and a half, but this is the first time the midsize sedan was surpassed by the all-new Soul.
The Sorento CUV, built in West Point, GA also did well, moving 8,645 units during the month.
The all-new Kia Cadenza moved 913 units, while the Rio subcompact recorded the sales of 2,474 units.
The award winning Sportage crossover, one of the best-looking all-wheel-drive models on the market, has posted a significant increase in sales.
The compact crossover doubled its sales from a year ago for a total of 4,693 units.
Overall, Kia's year-to-date sales have surpassed the magical 500,000 units for the second time in company history. Congrats!
New Kia Models Coming In 2014
The new vehicle launches will continue into 2014 when we can expect to see the arrival of the all-new 2015 K900, probably somewhere around spring.
The 2014 Forte Koup coupe and Forte5 hatchback are now available in showrooms.
We can also expect to see a new Sedona minivan, as well as Kia's first ever all electric vehicle, the 2015 Soul EV.
November 2013 Sales Highlights
1. Kia Soul surpasses Optima sedan to become the carmaker's best-selling vehicle in the USA!
2. Sportage crossover doubles its sales from a year ago!
3. Kia sales surpass 500,000 units!
4. Not actually a sales highlight, but still a very important official announcement! Watch out Kia fans, there's a redesigned Kia Sedona minivan coming soon!!
Sales By Model – Kia Soul Takes No.1 Spot