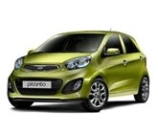 DAILY - UPDATED
KIA NEWS
&
SPY SHOTS
REVIEWS
SALES REPORTS

2018 Kia Picanto On Sale In USA or Canada?
Kia Picanto in US or Canada – is it available in 2018?
Small cars such as the Kia Picanto, Ford Fiesta, Hyundai Accent or Fiat 500 are especially popular in Europe, but lately, the stylish city-cars have been gaining popularity also amongst consumers in the USA and Canada.
Kia Motors Corporation offers a large number of highly attractive sub-compact and compact cars that deliver unsurpassed fuel efficiency and add versatility in an urban environment.
Those include the boxy Ray and Picanto 5-door hatchbacks, Venga mini MPV, Rio 5-door hatchback, Rio 4-door sedan and Soul crossover vehicle.
Some of the above-mentioned Kia small cars are only available in Europe, while others are limited to the carmaker's domestic market (Korea).
Kia Rio and Kia Soul are being sold in the United States, as well as in Canada and they have both been selling exceptionally well!
Kia Picanto in US / Canada
Kia Picanto, on the other hand, is not available for sale in the US market or Canada.
Kia has also no plans to bring the Picanto to the United States at this point, although there is an increasing number of consumers showing the interest in the carmaker's entry-level car.
Those looking for a small and affordble hatchback or sedan should take a closer look at the highly-attractive Kia Rio (named "Best Small Car" by Motorweek ) or the funky Kia Soul crossover vehicle.