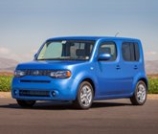 DAILY - UPDATED
KIA NEWS
&
SPY SHOTS
REVIEWS
SALES REPORTS

Nissan Kills Cube Boxy Car In Canada For 2014, Makes Room For More Soul
According to latest news from the automobile sphere, Nissan has discontinued the sales of their Cube boxy car!
The Japanese automaker hasn't officially announced the Cube's Canadian retirement, however, one of the Nissan's enthusiasts noticed that the automaker no longer listed the model at their official website.
He tweeted the company about it and received a response from Nissan: "Yes, the Cube has been discontinued in Canada".
The model wasn't particularly popular in the Great White North, so they must have killed it due to the poor sales.
With Nissan's elimination of the Cube boxy car from their range for 2014, the automaker has just made some more room for Kia Soul crossover's sales growth.
With only two cars available to choose from in the boxy car segment in Canada at this point, Kia Soul has been given an even greater chance of winning additional new car shoppers in the coming months.
The Soul's monthly sales figures are not expected to increase significantly, however, every unit sold counts.
Kia Soul Sales Canada
The Soul has been completely transformed for the 2014 model year and that is something what Canadians have definitely noticed.
And the Soul's 2014 sales figures certainly prove that.
According to Kia's monthly sales report, the Soul has recorded a 43% increase in sales during the month of April 2014 (compared to April 2013), while its year-to-date sales have soared 39%.
A total of 2,859 units have been sold in Canada so far this year!