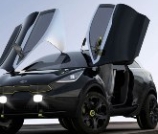 DAILY - UPDATED
KIA NEWS
&
SPY SHOTS
REVIEWS
SALES REPORTS

Niro Concept To Feature Innovative Powertrain Technology
Next week's Frankfurt Auto Show looks as though it's going to be the place where automakers come to show off their latest concept cars.
Kia will be delivering a sporty little crossover concept known as the Niro.
The small crossover vehicle delivers some cool design and tech concepts.
Those include butterfly doors, widescreen infotainment display and an innovative new powertrain.
Kia is saying that the Niro may well be the forerunner to an urban-focused B-segment model that is coming soon.
The Niro, which was designed at Kia's Frankfurt design studio, will need to undergo some radical changes if it is to make it to the streets for real.
The fact that it is jam packed with ridiculously cool features makes it a very unlikely production model.
A perfect example of that are the butterfly doors that open to an interior that looks more like a torture chamber than a comfy driving space.
The front seat is a molded one-piece bench that makes the thought of sitting in the back something of a nightmare.
We have to remember that this is a display car rather than a driving vehicle, so comfort is not high on the list.
Another addition that make production seem highly unlikely is a large freestanding display with all manner of buttons attached, which we presume are to be used for other functions.
Related Niro news
Kia's Innovative Powertrain Technology
Kia is keeping pretty tight lipped about that innovative new powertrain, bur when you see that one of the dash lights appear to be for 4WD, you need to assume that some form of electrification will be involved.
What we may be looking at is a Smart 4WD Hybrid technology that was seen in the Provo concept last year.
We will have to wait for the auto show to get any idea of what might be hiding under the hood.
Design Highlights
The Niro sports a curvy exterior with a rather prominent Kia grille. That grille, as well as the hubcaps and other exterior elements are highlighted in a stunningly bright yellow color.
They serve as a really cool contrast to the glossy black paint that is predominantly used on the vehicle. There are also a few dashed of silver used for contrast.
Kia plans on revealing more details about the Niro on September 10, which just happens to be the day that the all-new Soul will make an appearance.
The future of the concept will depend on how well it is received in Frankfurt.
Kia Niro Picture Gallery