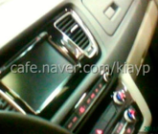 DAILY - UPDATED
KIA NEWS
&
SPY SHOTS
REVIEWS
SALES REPORTS

Next-Generation Kia Sedona Interior Spy Shots
Kia's next-generation Sedona minivan is on track for an official New York Auto Show unveiling in April.
But we already have a fairly good idea as to how the 7-seat people mover will look inside and out, thanks to the latest sets of spy shots.
The forth-coming Kia Sedona MPV will be the first model in the carmaker's range that will adopt the company's new corporate front fascia with sharper and edgier styling.
It will also be the first Kia vehicle to incorprate new styling DNA inside the cabin.
As these latest spy shots reveal, the next-gen Sedona will feature a drastically improved interior with a completely re-designed dasboard.
The new dasboard design looks more modern and the quality of the materials used is visibly improved.
Besides looking significantly better, the updated Kia Sedona interior is expected to offer more cargo room and passenger space.
UPDATE: Sedona's redesigned interior fully exposed! See the spy image above!
Kia Sedona Interior Spy Photos
Related Kia Sedona News
1. Next-generation Kia Sedona will make its official premiere at the New York Auto Show in April. Find more details about the new model in this blog post.
2. Kia Sedona spy video + image rendering: Hit this link to get your hands on a high-quality Sedona image rendering that previews Kia's new front-fascia styling direction.
[Photos: cafe.naver]