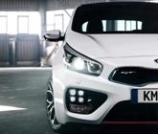 DAILY - UPDATED
KIA NEWS
&
SPY SHOTS
REVIEWS
SALES REPORTS

New Kia Pro Cee'd GT Turbo Pictures And Wallpapers
New Kia Pro_cee'd GT fully revealed in a series of high quality pictures!
Kia Motors Corp.has released some striking images of its performance-oriented pro_cee'd GT ahead of the model's inaugural public debut -set for the 2013 Geneva Auto Show.
Designed in Europe under the guidance of Peter Schreyer, the brands President and Chief Design Officer, the all-new Pro_cee'd GT is the carmaker's most performance-focused production car ever!
The stunning 3-door hot hatch features bold athletic exterior styling, revised interior layout and upgraded powertrain technology.
As previously revealed, the sporty pro_cee'd is fitted with the carmaker's brand-new turbocharged 1,6L gasoline engine, which churns out 204 horsepower and 265 Nm of torque.
Kia revealed it plans to commence the European market exclusive GT model range production at its European manufacturing plant in May.
The highly-advanced assembly plant will first produce only the sporty version of the 3-door pro_cee'd GT, while later it will also start manufacturing the 5-door cee'd GT!
Expect more technical details, along with pricing information to be released closer to the model's on-sale dates!
Kia Pro_cee'd GT Wallpapers