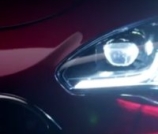 DAILY - UPDATED
KIA NEWS
&
SPY SHOTS
REVIEWS
SALES REPORTS

2018 Kia GT Teaser Showcases Turbo Engine, Side Vents
We have been showing you guys the teasers for the upcoming, as yet unnamed, Kia GT model, and now we have the 4h and final piece for you.
We get to see some more of the interior and exterior detail in this teaser.
The hood vents were revealed in earlier clips, but now we can see that side vents are also present, which isn't a huge surprise given that they appeared on the 2011 GT concept.
Another similarity between these two vehicles are the vertical vents up front, although we have to say that the finished look on this model is better than on the concept.
It is worth noting that the teasers have been showing off the top of the range models, so expect lesser trims to be a little less sporty.
This top of the line Kia GT model will come with quad exhaust tips, as well as glossy black accents on several body parts, including the previously mentioned hood vents and the side mirror caps.
Kia GT turbo engine
While it doesn't reveal the true identity, the clip does show that the flagship model will come with a turbocharged engine.
Our best guess is that it will be the 3.3-liter V6 turbo used in the Genesis G80, which means a power output of 365 horsepower and 376 lb.-ft. of torque.
There is always the chance that engineers will tweak the engine to deliver a little more power.
The clip also reveals that it will be an automatic transmission mated to the engine, combining to deliver the fastest accelerating model that Kia has delivered to date.
The GT will go from 0-62 mph in a blisteringly fast 5.1 seconds, and will deliver a top speed of 151 mph, which was revealed in the initial teaser clip.
Kia GT AWD
Kia will add AWD and RWD versions of the GT, depending on the trim level, with the lower trim models featuring 4-cylinder engines.
We expect that the European-spec Kia GT model will get a diesel engine, as well as a 6-speed manual option.
We will get to see the 2018 Kia GT model in all its glory this coming Sunday at 6 PM EST when it is unveiled in Detroit at the North American International Auto Show.