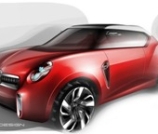 DAILY - UPDATED
KIA NEWS
&
SPY SHOTS
REVIEWS
SALES REPORTS

MG Gunning For Kia, Focusing On Vehicle Design
They say that imitation is the sincerest form of flattery, but if you are going to imitate, you may as well copy the best.
It's hard to match the success that Kia has achieved in recent years, having gone from the brink of financial disaster during the Asian financial crisis in 1997, to being one of the world's top automakers in today's market.
Their cause was helped after they were acquired by fellow Koreans, Hyundai Motor Company. They later employed former Audi designer Peter Schreyer and invested heavily in a number of Research & Development facilities in Europe.
MG wants to be the new Kia
Car companies that now find themselves in the same position as Kia was back in 1997 are now keen to copy that blueprint.
MG is the latest to follow suit, having seen their once great name tarnished by bad decisions and even worse modern car releases.
British economic policy in the 70's and 80's almost killed the UK auto industry. BMW bought out MG Rover in 1994, but by 2005 the Germans had thrown in the towel, with receivership and a halt in production coming for MG in 2005.
China's Nanjing Automobile Group brought MG back from the brink, acquiring the brand and its assets, which included the historic Longbridge plant.
The Shanghai Automotive Industry Corporation (SAIC) acquired Nanjing a couple of years later, and by 2009, the MG Motor UK Ltd company was born. Their first release, the MG6 compact saloon, hit the market in 2011.
The MG6 underwhelmed to say the least, moving only 15 units in October, 2011. No-one in the industry was surprised, especially since the "new" model was based on the SAIC Roewe 550, which itself was a derivative of the Rover 75.
A car with a single engine trying to make it in a market where diesels make up the segment also hurt its chances. Those problems have since been ironed out, with the MG6 now coming as a 1,85L diesel.
New models bring hope
MG vice director of design Martin Ulharik has high hopes for the company and believes that they are very close to Kia right now, and that in 5 years they will be well on their way. It's not everyone that is buying into that statement, though.
IHS Automotive senior analyst Ian Fletcher feels that SAIC is completely unprepared for the kind of time and effort that Kia put into their rebranding efforts, He went on to say that he doesn't believe SAIC will come anywhere close to Kia by the end of the decade.
MG currently assembles a Chinese-made knocked-down version of the MG6 at Longbridge, with plans to add the MG3 subcompact and the MG5 compact over the next 2 years. A compact crossover will be out in 2016, and a city car at some as yet unannounced date.
SAIC's long-term goal is to make MG an unqualified success. David Lindley, managing director of the Longbridge-based R&D headquarters said that they plan to enter the European market in order to make that happen which, he suggests, will take a little time.
Guy Jones, MG's sales and marketing head says that the Benelux and Scandinavian markets will be the first points of penetration for MG in Europe.
He likes those markets because they are comparatively small and easy to control. It also helps that each region has a successful track record in dealing with Asian brands.