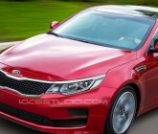 DAILY - UPDATED
KIA NEWS
&
SPY SHOTS
REVIEWS
SALES REPORTS

Soon-To-Be-Launched 2016 Kia Optima Rendered
A number of spy shots of the next-generation 2016 Kia Optima sedan have been released to date, leading many to speculate about what the finished article might look like.
Car fans over at the Kksstudio took to Photoshop to create a rendering of what we might expect, and it certainly looks convincing.
Recent reports indicate that this 2016 Kia Optima will have a slightly sharper design than before.
The new 4th generation model will hit the market in 2015, and will feature a new design language that will set the tone for future Kia releases in the coming years, with the likes of the next generation Cadenza and GT RWD sedan at the top of the list.
The tiger nose grille will continue to feature in the 2016 Optima, but will feature an updated front fascia and new LED lights. Larger taillights will be found around back.
The gas models of the new Optima sedan will have sportier looking air intakes in the front bumper.
The hybrid models will have more of a closed grille that will help with aerodynamics, and which will open and close as needed.
New alloy wheels and exterior colors will be made available on all models.
The newly redesigned Optima is also going to come with a seriously upgraded interior design language, another feature that will carry over to new Kia sedans.
Expect more features and a more premium feel on the inside.
As previous spy shots revealed, the vehicle will feature an incredibly sporty 3-spoke steering wheel, chrome trim throughout, and a new infotainment system that will show on a large 8-inch display.
Rumored Release Date
We will get all the details for sue when the 2016 Kia Optima gets its expected unveiling at the New York Auto Show in April.