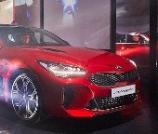 DAILY - UPDATED
KIA NEWS
&
SPY SHOTS
REVIEWS
SALES REPORTS

Korea: Kia Stinger Goes On Sale In May, Priced Below $30,000
The official release of the Stinger sports sedan is right around the corner and so far, all the news and comments about the new Kia sports sedan have been positive.
Listed below are the two latest pieces of news we have learned about the upcoming Stinger release.
Korea: goes on sale in May
The 2018 Kia Stinger will make its debut at the Seoul Motor Show, with the vehicle set to be released to the Korean market in May.
The Korean-spec model will come with two unique engine choices, both of which pack a punch.
They are the 2.0-liter 4-cylinder that delivers 250-hp, as well as the 3.3-liter turbo V6 that will crank out 370-hp.
There was a diesel-powered Stinger on display at the Geneva Motor Show, but that model will be for the European market only.
Korean-market Stinger pricing
The next bit of Stinger news is in regards the pricing, and it's very exciting, as the new vehicle will undercut its main competition by thousands of dollars.
Pricing for the base Stinger with 4-cyclinder model is set to come in around 30 million won, while the turbo model will be set at around $50 million won.
Converted to US dollars, you are looking at starting prices of $27,000 and $45,000, respectively.
This should not necessarily be construed as the pricing with which Kia will enter the US market with.
It's just here as a comparison.
It goes without saying that we will let you know the price of the US models as soon as we hear about it.