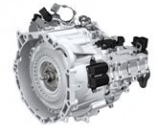 DAILY - UPDATED
KIA NEWS
&
SPY SHOTS
REVIEWS
SALES REPORTS

4 Kia Vehicles To Gain 7-Speed DCT Gearbox In 2015
Kia's new 7-speed dual-clutch automatic transmission -DCT is ready, and the word is that it's going to be applied into several new Kia models during the 2015.
Kia Motors Europe head of powertrain development Jurgen Grimm revealed that the automaker has developed two versions of the DCT, with one unit used for gasoline engines (with 270Nm maximum torque), and other unit used in diesel-powered models with maximum torque of 330Nm.
Unveiled at the Geneva Motor Show earlier this year, the 7-speed DCT gearbox is also expected to be used by Kia's sister company Hyundai, with the i30 5-door hatchback, the Sonata mid-size sedan, and the Veloster coupe being the most likely recipients.
Here are the 4 new Kia vehicles that are set to feature the DCT:
cee'd facelift: The refreshed version of the cee'd hatchback is one of the first candidates to gain the 7-speed dual clutch transmission.
The European drivers wanting to benefit from Kia's latest powertrain technologies will, however, need to wait until the middle of next year, which is when the cee'd facelift is rumored to hit the showrooms.
The cee'd facelift will receive some minor design tweaks, as well as some changes to the powertrain, including a brand-new turbocharged engine (either 1,0L or 1,2L TGDI unit).
2016 Optima: The 2016 Optima should be out early next year, with a concept model rumored for the Detroit Motor Show in January.
The 7-speed DCT will be part of the new set-up, which will also include a 1.6L turbo GDI engine with approximate 177 horsepower (the same hp rating as the 2015 Sonata sibling).
2015 Rio facelift: The dual clutch automatic gearbox will also find it's way under the hood of the smaller cars such as Rio and Soul crossover.
While it is not known when Kia plans to introduce it in the highly-popular Soul crossover, it is believed that the Rio will gain the unit once launched in a slightly updated form (Rio facelift is coming to the market in 2015).
2016 Kia Sportage: The Sportage will receive a major makeover in the second half of 2015 and will go on sale as a 2016 model year vehicle.
Expect the 2016 Sportage to offer a choice of a wide range of revised turbocharged petrol and diesel engines, mated to Kia's brand-new 7-speed DCT!