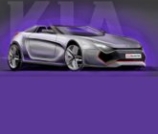 DAILY - UPDATED
KIA NEWS
&
SPY SHOTS
REVIEWS
SALES REPORTS

Peter Schreyer Wants Kia To Add A Roadster To Its Lineup
Kia is still very much gung ho about branching out beyond the tried and true markets and taking their lineup into a more upscale market.
The hardest part may just be changing the brand perception they carry.
That said, the company has made an inroad in that regard, with the likes of the 2014 Koup Turbo SX and the sporty Pro_cee'd GT.
Those two models have been incredibly well received, but the general perception in some markets is that Kia is still not quite ready for the upscale prime time.
Design chief Peter Schreyer is pretty confident in knowing how to expand the brand, with a soft-top cabriolet and a flagship luxury sedan very much in his future plans for the Australian market and beyond.
Kevin Hepworth, Kia Australia general manager of public relations, is another person who hopes to see a model expansion in the local market.
He revealed that he had talks with Peter Schreyer where the designer confirmed his desire to push forward with a GT sedan and a soft-top roadster model.
Those new models may still be a few years down the road, but one model that may arrive in Australia sooner rather than later is the Quoris luxury.
The stunner is the size of a BMW 5 Series and is already making waves in Korea and the Middle East. Kia also plans on launching the Quoris in the US in the near future.
The model will be sold in the USA as a K900 flagship sedan, starting from 2014. [Photosource: Ototasarim]