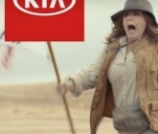 DAILY - UPDATED
KIA NEWS
&
SPY SHOTS
REVIEWS
SALES REPORTS

Melissa McCarthy In Kia Super Bowl 2017 Commercial
Kia Motors America has released first details about their upcoming 2017 Super Bowl ad.
The company is returning to the Super Bowl for the eighth consecutive year with a 60-second video commercial.
After putting Christoper Walken in last year's Super Bowl commercial, the automaker is turning to another celebrity to hype the launch of their new hybrid crossover on this year's game.
This year's Kia Super Bowl commercial stars Melissa McCarthy, the actress and comedian, as well as the brand-new Kia Niro hybrid crossover.
Kia's full video commercial will be aired during the third quarter of the Big Game.
The automaker has today released this teaser, showing Melissa McCarthy in safari gear, running in a panic.
She is running from … something!
What do you think she's so affraid of?
2017 Kia Super Bowl commercial ad
To be updated, so stay tuned!