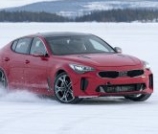 DAILY - UPDATED
KIA NEWS
&
SPY SHOTS
REVIEWS
SALES REPORTS

How Does Kia Stinger Handle In Snow And Ice?
The video here reveals how Kia Stinger performs in the snow!
The Kia Stinger is a beautiful looking vehicle that is both stylish and graceful, but underneath that cool exterior beats a strong heart that had to pass some serious tests.
As we speak, the Stinger had made the move from the famed Nurburgring test track in Germany to the icy landscape of the Arctic.
Kia engineers are out to prove that this vehicle can perform in a variety of conditions, including sub-zero temperatures.
One of the biggest selling points of the new Kia sports sedan will be its ride and handling, but that only works if it's able to deliver the goods in all manner of different settings.
The Stinger has certainly made the rounds to prove that point, including a stop in Arjeplog in Swedish Lapland, where it underwent testing in different low-grip environments, including a slalom run on the frozen waters of Uddjaure Lake.
Kia Stinger driving and handling in snow
RWD and AWD snow tests
The Arctic stop on the tour will allow the Kia engineers to find-tune the handling of the Stinger in both the RWD and AWD configurations.
It will also be used to test out the electronic driving aids that will be included in the vehicle.
It's important that both configurations work well, as this will be the first time that Kia delivers a sedan with both AWD and FWD set-ups.
Kia Stinger AWD
There are a number of systems in place in the Kia Stinger AWD model to help deliver a car that is easy to handle, including the Dynamic Torque Vectoring Control system, which is in place to ensure that all the wheels get the power and braking force they need in any driving situation.
Kia Stinger RWD gains mechanical limited slip differential
For drivers of the Stinger RWD model, an optional mechanical limited slip differential for maximum handling adjustability will be in place.
The 3.3-liter Stinger GT models will come with Electronic Stability Control (ESC) and Traction Control System (TCS), which can be switched out, when the vehicle is in Sport mode.
Albert Biermann serves as the Head of Vehicle Test and High Performance Development for Kia, and he spoke about the testing of the Stinger, saying that driving the car in extreme conditions helps create a higher level of stability and predictability.
He believes that such tests make it easier to deliver a sport sedan with great driving characteristics.
While he wants future owners of the 2018 Kia Stinger to have an enjoyable ride when they get behind the wheel, he also wants to be sure that they will be safe in all driving conditions.