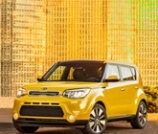 DAILY - UPDATED
KIA NEWS
&
SPY SHOTS
REVIEWS
SALES REPORTS

2017 Kia Soul In Solar Yellow Color Available?
Things you need to know about the Kia Soul yellow color...
"What does the Kia Soul Solar Yellow look like?" and "is yellow paint a popular choice among Soul buyers?".
Those are the most common question people ask us when it comes to the Soul exterior color options.
It appears that yellow color has been one of the most attractive production paint shades available on the Soul crossover.
Therefore, we have collected a pair high-quality pictures of the new Kia Soul in yellow shade and you can see them posted below.
Update: yellow Kia Soul is no longer available! It has been discontinued for the 2017 and 2018 model years.
Kia Soul yellow color pics
If yellow Kia Soul is not your choice, you can pick something else. 
Here are the available Soul color options:
Clear White, Bright Silver, Titanium Gray, Newport Blue, Black, Inferno Red, Tofee Brown, Acid Green, Vanilla Shake and Electronic Green.
About new Kia Soul
The latest advertising campaign for this "hamster" car goes under the monicker of "Totally Transformed," although those changes may not be obvious to the naked eye.
There have been mild changes made to the sheet metal, which includes a more muscular front end and a different "floating" lift gate panel.
The profile of the refreshed Kia Soul remains pretty much as it was before.
The powertrains are the same as those used last year, although they have been given a few minor tweaks to improve responsiveness as lower speeds.
The hard plastics previously used in the interior were a sore point for many. Those have all been removed and replaced with soft touch materials.
This improves the quality and makes for a more comfortable ride.
There are a trio of engines to choose from in the new Kia Soul: a 1.6-liter four-cylinder that makes 130 horsepower (24 mpg city/30 mpg highway), a 2.0-liter four rated at 160 hp (23/31) and a 201-hp 1,6L turbo engine.