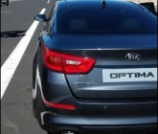 DAILY - UPDATED
KIA NEWS
&
SPY SHOTS
REVIEWS
SALES REPORTS

Kia Sales Figures For The Month Of September 2013
Kia Motors America moved 38,003 units in September, with the Optima leading the way for the 22nd consecutive month.
The month of September 2013 proved to be a slow month for Kia thanks in large part to an early Labor Day, which resulted in a significant decrease in monthly sales.
The
US Kia
dealers had only 23 selling days last month, while in September 2012, there were 25 available days to sell the cars.
Fewer selling days always bring lower monthly sales figures and that's exactly what has happened with Kia's sales last month.
Their September 2013 sales were down as much as 21 percent versus the same period in 2012.
The Optima mid-size sedan remained the top-seller for the brand. It was followed by Sorento and Soul crossover with sales of 7,849 and 7,416 units, respectively.
Other models also posted lower sales compared to the same month a year ago.
Meanwhile, the all-new 2014 Cadenza near-luxury sedan did quite well, selling nearly 1,000 units last month.
Take a look at the sales by Kia model comparison table to see the best- and worst-performing Kia cars & SUVs.
Kia Sales By Model – September 2013
New Models Will Help Kia Sales Soar
Kia will be delivering 7 all-new or significantly redesigned models throughout this calendar year, with two of them hitting the Kia US showrooms in October.
Those are the second-generation Soul urban passenger vehicle and the redesigned 2014 Optima midsize sedan.
Kia had the distinction of being one of only three automakers that increased sales in the US market in each of the past 4 years.
They also passed 500,000 units for the first time in 2012. Part of their success has to go the European inspired styling they adopted under the watchful eye of designer Peter Schreyer.
They have also increased the number of features in their cars, improved the technology and delivered premium amenities whilst still remaining very affordable and having the lowest cost of ownership in the industry.
Kia also saw their position improve on Interbrand's "Top 100 Best Global Brands" after their initial appearance on the list last year.
Related Kia News
Looking for more reports about Kia's monthly sales figures in the USA and elswhere around the world? Find them here, in the Kia sales news category!