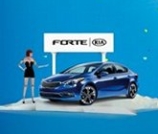 DAILY - UPDATED
KIA NEWS
&
SPY SHOTS
REVIEWS
SALES REPORTS

Kia Releases The Forte Techathlete Car Game
The 2014 Kia Forte instructed customers to "Respect the Tech," courtesy of the Hotbotswho introduced the technology-laden vehicle.
Kia Motors is now extending that clever marketing campaign to include an interactive online gaming experience that will put the tech-might of users to the test.
The Kia Forte Techathlete car game is a fun way for players to test their tech talent.
Instead of using traditional athletic tools like the discus and shot, users will instead use such items as keyboards, cell phones, webcams, and more.
There is more than just bragging rights at stake in the game, with players able to win cool gadgets like the Xbox Kinect, Go-Pro camera, Nike+ FuelBand and Beats by Dre headphones.
5 Different Car Games
There are 5 different games to be played in Kia's Tecathlete Games: Type-Wondo, Gymnas-Clicks, 100m Headles, Sla-La-La-Lom and Gy-Row-Scope.
Each of the games has been designed to highlight a specific feature of the 2014 Kia Forte.
For example, Sla-La-La-Lom showcases the voice-controlled navigation system by getting players to steer their way safely down a slippery slope using their voice and a microphone.
Players connect their smartphones to their computers in order to play Gy-Row-Scope, which highlights the ease with which the Forte can be synced with smartphones to stream music.
Michael Sprague, executive vice president, marketing & communications, Kia Motors America, said that the games were a fun way for players to get a look at the advanced technologies in the Forte, as well as being able to get a firsthand look at Kia's two key marketing strategies: customer interactivity and connected life activations.
You can find the latest Kia car game at Facebook.