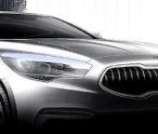 DAILY - UPDATED
KIA NEWS
&
SPY SHOTS
REVIEWS
SALES REPORTS

Kia Quoris Release Date Set For 2014
It has long been expected that the Kia Quoris flagship sedan would eventually make its way to the US, and that has now been confirmed, with a rough arrival date in place.
Autonews website spoke to officials from Kia at the launch of the 2014 Cadenza and found out that the Quoris woule be on sale in the US "next year."
The likelihood then is that the vehicle will see the light of day as a 2015 model.
Kia Quoris first arrived on the scene in 2012 in Korea, where it is known as the K9.
It is believed that the US version will come with an entirely new name, not to mention some distinct styling changes. That belief comes from some of the spy shots seen of the Quoris being tested on US soil.
The Quoris luxury sedan shares the same rear-wheel-drive platform as the Hyundai Equus, with the size and proportions also on a par with the Hyundai flagship.
The major difference between the two siblings is that the Quoris has a 3.8-liter V-6 engine rated at 285 horsepower, as opposed to the V8.
US consumers can also expect to see a 330 horsepower direct-injected version of the engine, while the standard transmission will more than likely be an 8-speed automatic.
The standard features on the Quoris will be dependent on trim level, but expect to see adaptive all-LED headlights, lane-departure and blind-sport warning systems, active cruise control and a camera-based around-view monitor.
Other features that will either come standard or as options include a 12.3-inch central display, a head-up display, twin 9.2-inch monitors to entertain rear seat occupants and a 17-speaker Lexicon (by Harman) sound system.
Sources state that the Quoris pricing is likely to be set just below the $59,250, a starting price of the Hyundai Equus luxury sedan.