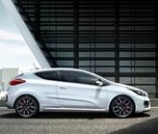 DAILY - UPDATED
KIA NEWS
&
SPY SHOTS
REVIEWS
SALES REPORTS

Kia Pro_cee'd GT 2013 – First Official Photos
These are the very-first official images of the forth-coming 2013 Kia Pro_cee'd GT hot hatch!
Scheduled to make its official public premiere at the 2013 Geneva Motor Show, the all new pro_cee'd GT has already been teased showing a more aggressive styling with redesigned front bumper and larger air intakes.
Based on the standard 2013 pro_cee'd 3-door, the "hot hatch" also boasts a honeycomb signature grille with exclusive GT logo, red accents and LED daytime running lamps.
Furthermore, the GT model also adopts larger side skirts, re-styled rear bumper, 18-inch alloy wheels, red brake calipers, as well as special paint finish.
2013 Pro_cee'd engine specs
New Kia Pro_cee'd GT is propelled by the 204-horsepower 1,6L GDI engine. The highly-potent four-cylinder turbo unit generates 51% more power and 61% more torque (265 Nm) than the standard, non-turbo 1,6L GDI engine.
Mated to the six-speed manual transmission, the peak power output of the 1,6L GDI engine can be maximized to sprint from 0-100 km/h in just 7,9 seconds.
Further details about the carmaker's hot hatch range are expected to be released closer to the March's Geneva Auto Show, so stay tuned for the next update!
Kia Pro_cee'd GT 2013 photos:
Find more about the 2013 Pro_cee'd GT: Kia Pro_cee'd GT Specs
Related news – Kia at the 2013 Geneva Auto Show: New Kia concept car teaser images