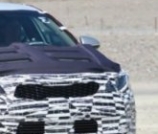 DAILY - UPDATED
KIA NEWS
&
SPY SHOTS
REVIEWS
SALES REPORTS

Kia Optima Hybrid 2016 Release Date, Rumors & News
Kia is all set to launch an attack on the likes of the VW Passat, Ford Mondeo, and Vauxhall Insignia when they release an all-new version of the 2016 Optima mid-size sedan next year.
Design and interior quality will be improved, and consumers will get to choose between, petrol, hybrid, and plug-in models, according to the latest automobile media reports.
A select few media guests were invited to take a look at the production-ready 2016 Kia Optima model at the Namyang design center near Seoul, recently.
While taking photos wasn't allowed, the media has gotten a green light to share their thoughts on styling and other details with the rest of the population.
So, as far as styling go, the upcoming fully-redesigned Optima sedan features a wider tiger nose grille connecting the front headlights, with large wraparound lights in back.
Larger air intakes are featured in the front of the petrol model, while the grille on the hybrid model is blanked out. The car's front bumper features smoother curves, while a wider rear bumper and special wheels help with aerodynamics.
The interior of the redesigned 2016 Optima gets some serious upgrades and features upscale items like cooled leather seats and a widescreen display that sits in the middle of the leather-wrapped dash.
Specification details were not revealed at this time, but the media have learned that the petrol version of the Optima will welcome in a hybrid and plug-in model a little later in the life cycle.
The all-new Kia Optima is scheduled to hit the market during the first half of 2015, while the hybrid and plug-in models will join the range in late 2015 or early 2016.
Speaking of the next-generation Kia Optima, the Head of overseas marketing Spencer Cho revealed that Kia is aiming on creating a class-leading electric-only range Optima plugin hybrid car.
He pointed to the excellent range of the Soul EV, saying that they are looking for the same sort of range with their forthcoming plug-in hybrids.
He also spoke about the development of a diesel-electric hybrid powertrain and a potential Optima wagon for Europe.
2016 Kia Optima Spy Video