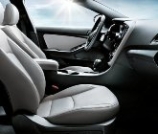 DAILY - UPDATED
KIA NEWS
&
SPY SHOTS
REVIEWS
SALES REPORTS

Kia Optima's 2013 International Car Of The Year
Kia Motors America has announced that Road & Travel Magazine has named the 2013 Kia Optima as the International Car of the Year.
The announcement came at the 2013 North American International Auto Show (NAIAS) in Detroit.
The Optima mid-size sedan has been completely redesigned in 2010, and it is that, as well as the fantastic list of amenities it comes with, that made the affordably priced mid-size sedan the top seller for Kia in 2012.
The car is one of the major contributors to the increased customer support shown for the Kia brand as a whole.
Michael Sprague, executive vice president of marketing and communications, KMA, said that the company was thrilled to have the 2013 Optima receive the International Car of the Year award from Road & Travel Magazine.
He went on to say that the popularity of the Optima continues to grow thanks to the combination of performance, comfort, technology, and great value.
Road & Travel Magazine hands out 10 of their ICOTY awards to new and existing models that have shown significant and.or impressive improvements. The emotional connection between consumer and vehicle plays a major role in the decision making process.
A jury made up of well-known automotive journalists from publications such as MSN Autos, Car and Drive, and Consumer Guide Automotive, ultimately make the final decision on the 10 vehicles chosen.
Courtney Caldwell, Road and Travel Magazine's Editor-in-Chief, said that the 2013 Kia Optima was the most emotinally compelling of all the cars that made the list.
He added that the sleek design, funtionality, and advanced features all meshed perfectly with the everyday needs of the average consumer, which is exactly what the judges look for when choosing the winners.
Kia Optima Awards
The Optima racked up a few other awards and accolades, including being named the 2012 "Best New Car Value" award from Kiplinger's Personal Finance, "Sedan of the Year" by Autobytel.com, one of the "Top Drives for 2012" by the Boston Globe and a "Best Buy" by Consumers Digest.
Find a full list of 2012 Kia awards and accolades here…