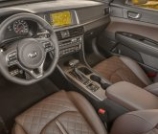 DAILY - UPDATED
KIA NEWS
&
SPY SHOTS
REVIEWS
SALES REPORTS

2018 Kia Models With Nappa Leather
Which Kia models come available with premium Nappa leather?
When you go looking for luxury with your new car purchase, one of the key elements of that upgrade is leather seating.
If it's a Kia car you are in the market for, that means getting Nappa leather.
You are probably wondering the difference between that and other types of leather, and we are here to help explain it.
Some of you may be trying to track down an animal called a Nappa, as you assume it is some sort of animal hide.
Save yourself the trouble, as it doesn't exist.
The word Nappa is used to describe how the leather was treated and tanned, with the result being a chrome tanned smooth leather that is extremely soft to the touch.
Nappa leather is breathable and incredibly comfortable, which is why it is considered such an upscale option.
2018 Kia models with Nappa leather
The Kia cars that have Nappa leather included take the comfort a step further by making it quilted.
The way the fabric is treated creates beiges that are softer and creamier, as well as blacks that are denser that you would generally expect from leather.
The 2018 Kia vehicles with Nappa leather as an option are:
2018 Kia Optima: Nappa leather is available in two colors, a rich Merlot and Dark Aubergine
2018 Kia Cadenza: Nappa leather is available with quilted seat bolsters accented by diamond shaped stitching
2018 Kia Sorento: Nappa leather is available
2018 K900: Nappa leather is available
Nappa leather is soft comfortable, and perhaps best of all, easy to maintain.
This is a material that you need to see and feel to full appreciate.