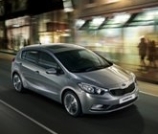 DAILY - UPDATED
KIA NEWS
&
SPY SHOTS
REVIEWS
SALES REPORTS

Kia Launches New Cerato 5-Door Hatchback In Australia
The Cerato (sold also as Kia Forte) has proven to be Kia's most successful global model to date, selling 2.5 million units since it was released back in 2001.
That number includes the 445,000 units it sold in 2011, which was actually 18% of all Kia's sales that year.
The undisputed leader of the Cerato compact car family in Australia has been the stylish 5-door hatchback, which has accounted for as much as 70% of all Cerato sales down under since 2010.
The arrival of the all-new Kia Cerato hatchback will cement the cornerstone of the Cerato range in Australia.
Kia should be able to build on their presence in the small car segment when the Cerato Koup arrives a little later this year.
Cerato 5-Door Design
The design cues that have made the Cerato such a popular model in the small car segment have been given the magic touch by head designer Peter Schreyer.
It is that little bit of magic that has helped make the Kia brand one of the most desirable in the world.
The all-new Cerato hatch is longer, lower, and wider than the outgoing model. It also sports a longer wheelbase and has a sleeker profile that is sure to be a big hit with Australian car buyers.
The body shell has been restructured to be of a higher quality than before.
The redesigned 5-door hatch also features upgraded equipment, as well as a ton of additional convenience and safety features.
The cabin has also been made a bit more spacious, and an upgraded powertrain lineup will appear under the hood.
Kia Motors Australia Chief Operating Officer, Tony Barlow said that small car shoppers in Australia have already embraced the Cerato sedan and he feels that the arrival of the hatch will continue that good feeling. He expects that the excitement about the small car segment will be taken to all new levels when the Koup hits the market.
New Model Delivers Superb Quality
The first version of the Cerato was all about delivering a quality car at an affordable price, with the end result being 1.23 million sales worldwide.
When the second generation arrived in 2008, the focus shifted to design, quality and value, with 1.12 million units of that model already sold.
Kia designers and engineers listened to feedback from customers when creating the new Cerato.
The end result is a vehicle that has been designed to not just meet customer expectations, but to also exceed them.
The goal of Kia is to ensure that buyers end up getting a car that delivers a long-term ownership experience for every single customer.
Kia has put in 42 months of design work and has invested $256 million to deliver the third-generation Cerato, which will be manufactured at Kia's Hwasung facility in Korea.