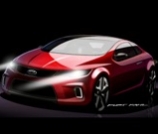 DAILY - UPDATED
KIA NEWS
&
SPY SHOTS
REVIEWS
SALES REPORTS

Kia Koup To Gain 1,6L T-GDI Turbo Engine
There was a lot of talk about "hot" Kias coming to the U.S. showrooms after the South Korean carmaker released first official teaser images of the Euro-specs cee'd and pro_cee'd GT models, fitted with a 1,6L turbo engine, but official release dates and launch plans have been quiet.
Until recently, we have only heard rumors stating that the next-generation Kia Forte Koup will be getting a turbocharged 1,6L T-GDI engine (the same unit as already available in the Hyundai Veloster Turbo).
However, Kia made a surprising reveal at the Chicago Auto Show last month introducing a turbo-charged Forte 5-door hatchback!
The Forte 5-door hatch will offer two engines when it goes on sale in the USA this autumn. It will offer a base 2,0L four-cylinder engine, generating 173-horsepower, and the range-topping 1,6L T-GDI turbo engine delivering 201-horsepower and 195 lb-ft of torque.
Kia's highly-advanced 1,6L T-GDI 4-cyl. engine will also find its place under the hood of the all-new 2014 Forte Koup!
Set to make it's official public premiere at the New York Auto Show, the 2014 Kia Forte Koup will join the Forte 4-door sedan and Forte 5-door as the third and final instalment in the latest generation Forte family.
According to latest reports from sources close to Kia Motors America, the all-new Forte Koup will hit the US showroom floor in the third quarter of 2013.
Stay tuned for more news on the all-new Kia Koup 2-door coupe!