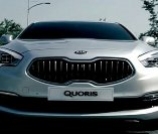 DAILY - UPDATED
KIA NEWS
&
SPY SHOTS
REVIEWS
SALES REPORTS

Kia K900 RWD Luxury Sedan To Be Launched In 2014
Kia has informed dealers that a new full-size flagship sedan will arrive in the US next year, further marking the company's move into the luxury market.
The new vehicle, the K900, will be the first ever RWD that the Koreans have sold in the US market.
It is in fact the same model as the K9 (on sale in South Korea) and Quoris (other global markets) and will come with the same advanced luxury technologies and features found in those other vehicles.
The entire package is similar in size to the BMW 7 series. There is no official word on pricing, but the K900 should come in between $50,000 and $70,000.
Don Hobden, chairman of Kia's national dealer council, said that Kia officials are describing the car as a 7-series at a 5-series price.
New Kia K900 Release Date
There is no official release date, but expect to see it in showrooms in the early part of 2014.
Kia has told dealers that the K900 will be advertised during the 2014 Super Bowl.
This has become common practice for Kia, as it has used the NFL championship game to show off new products, including the redesigned Forte this year and the Optima in both 2011 and 2012.
Sales Expectations
Executives at Kia believe the car will sell 5,000 units next year, which is a relatively small return for the company.
That said, it's a far bigger number than the 2,000 to 3,000 units that Hyundai forecast for the Equus luxury sedan.
Ken Phillips, president of Car Pros Kia with dealerships in Tacoma, Wash., and greater Los Angeles, was in attendance at the meeting where the K900 was announced and feels that this car will show off Kia's capabilities as an automaker.
He believes Kia will stop being the butt of people's jokes when they get a look at the incredible new car.
V8 Engine, High-Tech Features
He is of the opinion that the K900 will have an engine lineup that includes a V6 and V8 engine option, delivering up to 420 hp.
The V6 will likely be 290 hp, 3.8-liter version used in South Korea, whereas the V8 will deliver the 420 hp via the Hyundia-Kia Tau engine.
Some features that appear on the overseas models and which are expected to be in the K900 include adaptive LED headlights, adaptive cruise control, a 17-speaker premium audio system and a head-up display that displays cruising speed, turn-by-turn directions and other information.
The K900 will likely be released in a number of key markets first, with cities along the West Coast, Florida and New England expected to be the first.
Kia dealers will be expected to go through special training to learn about the details of the K900. Hobden revealed that it was made clear that the car would not go to all Kia stores.
The strategy being used to release the all-new Kia K900 is similar to that which Hyundai used to launch the Equus in 2011. Dealers wishing to sell the car will probably have to adopt a showroom within a showroom for the car and invest in specialized training. [Source: Autonews]